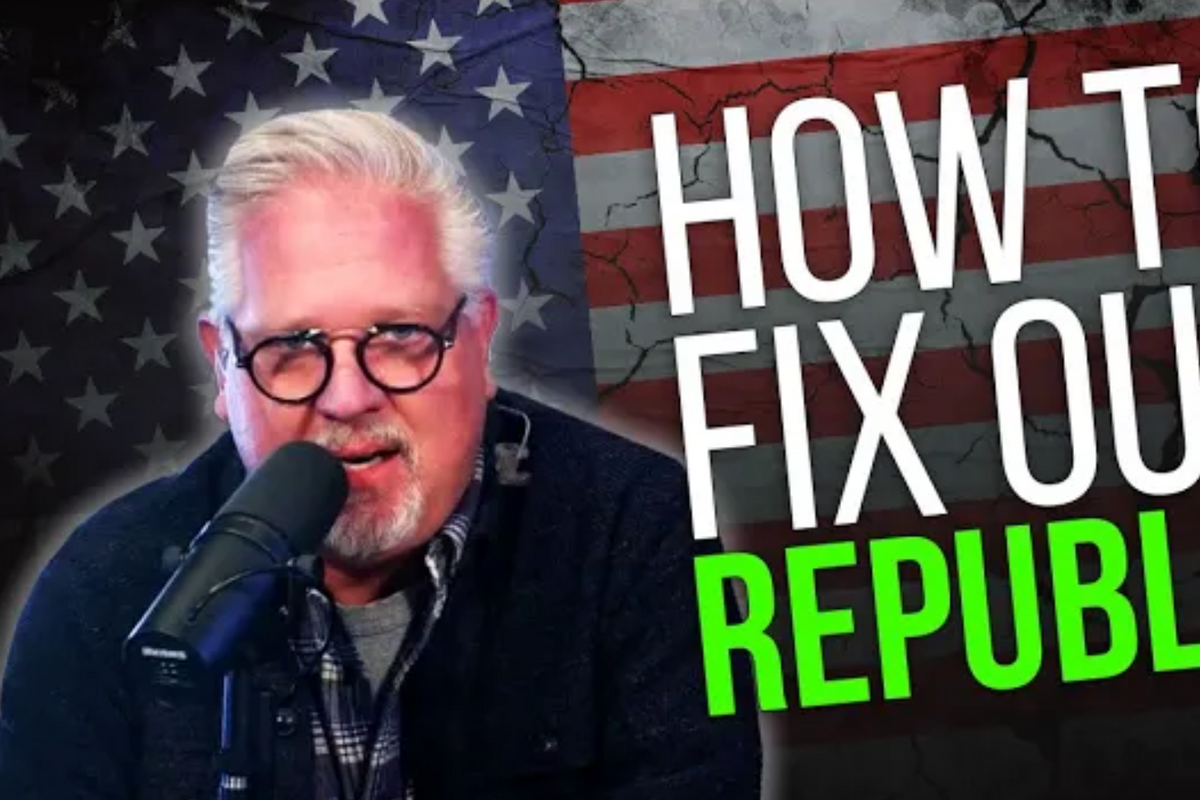 It's a new year, and every new year comes with New Year's resolutions. This is when we resolve to lose weight, join a gym, or finally read those books on our shelves. For many of us, the New Year's resolution has become a kind of joke, because deep down, we know the new diet won't stick and that reading a book a day isn't really sustainable. The real issue is that we usually create resolutions that are too idealistic and broad, like, "Be healthy." When it comes time to deliver on those resolutions, we don't know what to do, so we quit.
But the idea of resolutions is still a good one. It is good to set new and better goals for ourselves. The secret is keeping them attainable.
You will hear many people, like me, tell you that 2022 is the year to save the American republic. Well, that is a great idea, but what do we actually DO to make that happen?
I know this audience is already resolved to save America, so I want to offer you some specific, actionable ways to do that.
Here are some "Practical Steps to Revive the Republic." It is by no means a fully comprehensive list. We will find a broad array of ways to save our nation. This list is a jumping-off point for the New Year for folks like us who love this country.
Practical Steps to Revive the Republic1. Get married and have a family.
Mother Teresa said, "What can you do to promote world peace? Go home and love your family."
Family is the first system of government we enter. It is where we are taught the virtues necessary for self-government. Children denied love and guidance when they are young struggle to successfully enter society, let alone the reality of their own lives. We call them "mal-adjusted."
Ronald Reagan addressed the nation in 1986, saying:
"Consider, for example, that the philosopher-historians Will and Ariel Durant called the family 'the nucleus of civilization.' They understood that all those aspects of civilized life that we most deeply cherish — freedom, the rule of law, economic prosperity and opportunity — that all these depend upon the strength and integrity of the family. If you think about it, you'll see that it's in the family that we must all learn the fundamental lesson of life — right and wrong, respect for others, self-discipline, the importance of knowledge, and, yes, a sense of our own self-worth. All of our lives, it's the love of our families that sustains us when times are hard. And it is perhaps above all to provide for our children that we work and save.
"Some have suggested that in today's world, the family has somehow become less important. Well, I can't help thinking just the opposite: that when so much around us is whispering the little lie that we should live only for the moment and for ourselves, it's more important than ever for our families to affirm an older and more lasting set of values."
If you are concerned about the fall of the American republic, remember that liberty is always just a generation away from success or demise, and the children we raise make all of the difference.
2. Tell the truth.
"When you have something to say, silence is a lie." –Jordan B. Peterson
Lying is really easy. It seems to take the mess of the present and push it into the future. But lying makes the world like a mine field of constructed reality – one wrong step and it will all blow up. To maintain a lie costs the liar in consciousness, attention, and productivity. Enough lies make you useless. Useless people have very little capacity for self-government.
In 2021, we rightly pointed out, "The media lies!" "The politicians lie!" "The doctors lie!" "The celebrities lie!"
But if we lie too, can we expect better from them? If we are silent in the face of lies, when we KNOW they are lies, then how can we expect things to improve?
If we each agreed to stop lying and to tell the truth today, can you imagine how much better tomorrow could be? Theodore Dalrymple, the pen name of the English writer and psychiatrist, said it perfectly: "When people are forced to remain silent when they are being told the most obvious lies, or even worse when they are forced to repeat the lies themselves, they lose once and for all their sense of probity. To assent to obvious lies is in some small way to become evil oneself. One's standing to resist anything is thus eroded, and even destroyed. A society of emasculated liars is easy to control." We have to embrace and promote a way of life worthy of liberty – and that starts with me, you, and all of us.
3. Study history and read old books.
There is nothing new under the sun. It's likely that the struggles of today were deliberated years ago by our ancestors. Perhaps they have some good ideas worth considering. We won't know unless we study them. The American system of government was revolutionary not because the founders were somehow superhuman (although God was clearly with them) but because they embraced the lessons of the past. If you think practically, looking at the future is impossible, but moving into the future, regardless of where you look, is inevitable. The only concrete information we have is in the past. If you are being presented with a "new idea," check with the past first to see how that idea will play out. If you love the American republic, study it. If you want to navigate the future, read old books.
4. Own. Don't rent.
Many of us likely watched "It's a Wonderful Life" over the holidays. This movie makes an explicit case for the correlation between home ownership and human dignity. The greedy villain. Mr. Potter, wants to keep the people of the town in his rental apartments and is threatened by the movie's protagonist, George Bailey, whose Bailey Building and Loan business is helping people own their own homes.
Home ownership matters. Not only does it set you on the path toward true self-reliance and out of the grips of the "Mr. Potters" of the world, but it also creates local buy-in, which makes our communities stronger. A 2001 Harvard study found:
"Strong and consistent evidence indicates that homeowners are more likely to:
a) be satisfied with their homes and neighborhoods;
b) participate in voluntary and political activities; and
c) stay in their homes longer, contributing to neighborhood stability.
To be metaphorical: It turns out that when we put down roots, we care more about the local soil. But right now, we are seeing the death of home ownership in exchange for perpetual renting. Even people with the financial capacity to buy a home are forgoing it for the ease of renting. But if we want to save our republic, we have to tend to our local communities. We have to take ownership over where we live.
Before our Declaration spoke about "life, liberty, and the pursuit of happiness," John Locke was talking about the natural rights of life, liberty, and property. When he said "property," he was talking about the holistic ownership a man can have over his destiny. The right to own property is about self-determination. In essence, it is about the right to own yourself – to own your destiny.
If you can buy a home, do it. If not, take on the mentality of a homeowner in your community, not a passerby.
Whenever possible, own, don't rent.
5. Dump the tea into the sea.
Over the past two years, the government has grabbed at power like a drunken man in a strip club, losing all decorum, restraint, and sense of place in the greater society. But what is more disturbing is that we complied. After "15 days to slow the spread," we stayed unnecessarily locked down physically, emotionally, and financially for almost two years.
Remember the last time kings tried to hold us down? I'm not saying to turn to violence. I am saying we should just start saying "no" to the government overreach – PEACEFULLY, respectfully, and deliberately.
Thomas Jefferson said, "The spirit of resistance to government is so valuable on certain occasions, that I wish it to be always kept alive."
Maybe the lovers of the American republic need to start getting into, as the left loves to say, "good trouble."
6. Know your rights AND your responsibilities.
We all love talking about our rights. In fact, the word "rights" is being conflated with a narcissistic tendency to think we deserve the whole world to conform to our way of life. Yet our inalienable rights are eroded every day. If you haven't read our founding documents, now is the time. We can't protect rights that we can't define or are ignorant of. But along with rights come responsibilities. We are accustomed to turning to the government to solve everything – to heal all of our "boo-boos." It's reflexive at this point.
"There are so many poor people ... I'll call my senator!"
Yes, the government has a role in general welfare, but the government is bad at solving most problems. I would love to hear a politician, when asked about an issue, say, "Yes, I agree that is a problem, but the government should not be the one to solve it."
Can you imagine?
There are plenty of issues in our communities – plenty of people who need help. We have to start helping them. Knowing the government will "help the poor" and lock them in cycles of poverty, we need to develop other solutions in our own communities. There are many important issues to address. We have forgotten whose job it is to address them. When we fail to love our neighbors, the government steps in as a poor and destructive substitute.
7. Say "republic" more than "democracy."
You can't turn on the news without someone telling you about the fragility of our "democracy." In President Biden's Inauguration Day speech, he broke the record for the number of times the word "democracy" was used in an inaugural address. When politicians call for abolishing the Electoral College, they call it "undemocratic." A Pew Research study found that 58% of U.S. adults think the Constitution should be amended so that the presidential candidate who receives the most votes nationwide wins. This would no doubt make America more democratic. But America is not a democracy. We don't live in a democracy for good reason. The founders understood that "majority" does not mean "right." That isn't to say our founders didn't infuse our system with the best of the democratic values, but they ultimately decided in favor of a new system – a very delicate order of checks and balances and delegated power and representation. This was to provide protection against the whims of faction or, as we call it today, "the mob." It's the leaders of our modern mob who love to exchange the word republic, which is what we really are, for democracy. Words have meanings. Many young Americans believe they live in a democracy. When discussing America, make sure to use the word republic.
Federalist No. 10
From this view of the subject it may be concluded that a pure democracy, by which I mean a society consisting of a small number of citizens, who assemble and administer the government in person, can admit of no cure for the mischiefs of faction. A common passion or interest will, in almost every case, be felt by a majority of the whole; a communication and concert result from the form of government itself; and there is nothing to check the inducements to sacrifice the weaker party or an obnoxious individual. Hence it is that such democracies have ever been spectacles of turbulence and contention; have ever been found incompatible with personal security or the rights of property; and have in general been as short in their lives as they have been violent in their deaths. Theoretic politicians, who have patronized this species of government, have erroneously supposed that by reducing mankind to a perfect equality in their political rights, they would, at the same time, be perfectly equalized and assimilated in their possessions, their opinions, and their passions. A republic, by which I mean a government in which the scheme of representation takes place, opens a different prospect, and promises the cure for which we are seeking.
8. Learn from people you disagree with.
Perhaps this needs no explanation. We have so much we can learn from each other in the honest pursuit of truth. Our forefathers didn't ensure our freedoms of conscience and association for nothing.
Here's how the conversation went on radio Thursday:
Follow THESE 8 STEPS so we can REVIVE our republic