Ex-CIA Chief John Brennan Hits Back at President Trump in Op-Ed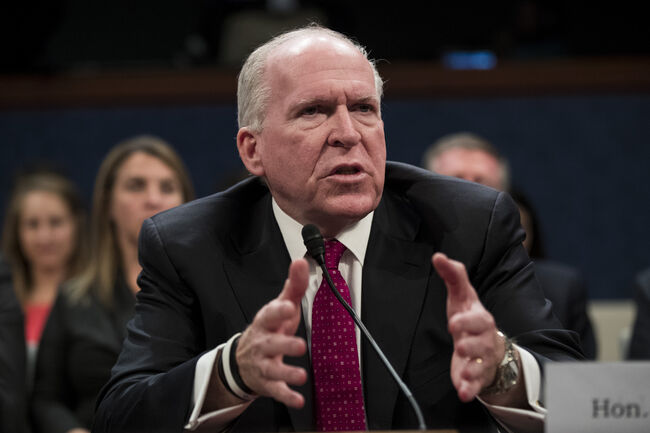 In a blistering op-ed published in the New York Times on Thursday, former CIA Director John Brennan struck back at President Donald Trump, after having his security clearance revoked on Wednesday.
"Mr. Trump clearly has become more desperate to protect himself and those close to him, which is why he made the politically motivated decision to revoke my security clearance in an attempt to scare into silence others who might dare to challenge him," Brennan wrote in the op-ed.
Brennan argued that Trump's claims of "no collusion" were "in a word, hogwash."
On Wednesday, Trump revoked the former CIA chief's security clearance, the first time a president has done so.
"Mr. Brennan's lying and recent conduct characterized by increasingly frenzied commentary is wholly inconsistent with access to the nation's most closely held secrets," Trump said in a statement relayed by White House press secretary Sarah Sanders.
The White House announced in July that Trump was considering revoking the security clearance of a number of former intelligence officials who have been critical of his presidency, including Brennan.
On Wednesday during an interview with the Wall Street Journal, Trump said his motive for targeting Brennan's security clearance had to do with his role at the start of the Russia investigation.
"I call it the rigged witch hunt, [it] is a sham," Mr. Trump said in a Wednesday interview with The Wall Street Journal. "And these people led it. So I think it's something that had to be done."
In his op-ed, Brennan pointed to remarks made by Trump when he was still a candidate, asking Russia to hack and find the missing emails from Hillary Clinton's private email server.
"Such a public clarion call certainly makes one wonder what Mr. Trump privately encouraged his advisers to do — and what they actually did — to win the election," wrote Brennan.
"The only questions that remain are whether the collusion that took place constituted criminally liable conspiracy, whether obstruction of justice occurred to cover up any collusion or conspiracy, and how many members of "Trump Incorporated" attempted to defraud the government by laundering and concealing the movement of money into their pockets."
Brennan served as CIA Director under President Barack Obama between 2013 and 2017.
Trump says he's still reviewing whether to revoked the clearances of other officials including the former Director of National Intelligence James Clapper, and former FBI Director James Comey.
Photo: Getty Images